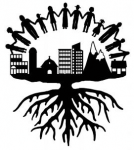 The Communities Conference is a yearly event, held at Twin Oaks Community in Louisa, Virginia, USA. In 2010 it will be held on August 13-15. It is an exploration and celebration of cooperative living in various types of intentional communities, including ecovillages, communes, cohousing, and co-ops. Created for people who already live in intentional communities, people searching for a community to live in or communities to visit, and people who just want to get a sense of what life in community is like. Sponsored by the Federation of Egalitarian Communities and the Fellowship for Intentional Community.
Workshops explore such issues as group decision-making, founding communities, natural building, intentional relationships, non-violent communication, sustainable living, collective child-raising, and more. There is a "meet the communities" session for people from all the intentional communities represented to introduce their communities to the group. The event also includes campfires, music, potluck meals, opportunities to swim, a benefit auction, time to casually connect with other participants, and other fun activities.
The website of the Communities Conference is www.communitiesconference.org.
Ad blocker interference detected!
Wikia is a free-to-use site that makes money from advertising. We have a modified experience for viewers using ad blockers

Wikia is not accessible if you've made further modifications. Remove the custom ad blocker rule(s) and the page will load as expected.