The following strategies of the Yarrow EcoVillage are arrayed in three dimensions (Social-Economic; Ecological and Cultural-Spiritual). Each dimension has five elements (e.g., Learning/Teaching...). Each of the elements contains one or more descriptive statements or critical success factors.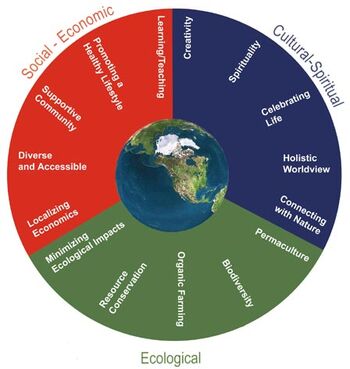 SOCIAL - ECONOMIC
Learning/Teaching
Experimentation
Research and demonstration
Internal and outreach education and communication
Lifelong learning
Promoting a Healthy Lifestyle
Preventative healthcare
Fitness and nutrition
Holistic healing
Supportive Community
Shared vision and agreements that express commitments
Listening for meaning
Consensus decision-making
Collaborative conflict resolution
Co-intelligence
Sharing resources with one another and with the wider community
Diverse and Accessible
Inclusion of individuals from various backgrounds and stages of life, differing abilities, incomes and family structures (including singles), and diverse cultural, spiritual and religious backgrounds
Barrier-free design
Provision of affordable housing options, (i.e., rental, lease to own and use of sweat equity).
Localizing Economics
Economic activities planned for, enabled and supported on site
Encouraging worker ownership
Supporting the local economy
Community economic development
ECOLOGICAL
Minimizing Ecological Impacts
Green business
Life cycle and ecological footprint analysis
The Natural Step
Conserving Resources
Green building
Renewable energy
Local water care
Alternative waste disposal
Organic farming
Local food production, consumption and recirculation
Certified organic farm
Sustainable year-round food production
Biodiversity
Encouraging the wild and native flora and fauna
Habitat restoration
Ecosystem protection and management
Permaculture
CULTURAL - SPIRITUAL
Creativity
Artistic expression
Personal unfolding
Spirituality
Respecting, honouring and celebrating everyone's spirituality
Finding and incorporating beauty in all elements of life
Celebrating Life
Honouring cultures
Celebrating significant events and passages
Promoting peace and nonviolence
Holistic Worldview
Philosophy and science supporting the interconnectedness of life
Connecting with Nature
Attuning to natural cycles
Bioregional thinking
Ad blocker interference detected!
Wikia is a free-to-use site that makes money from advertising. We have a modified experience for viewers using ad blockers

Wikia is not accessible if you've made further modifications. Remove the custom ad blocker rule(s) and the page will load as expected.